Whether you require water heater repair or water heater replacement - we're here to get the job done right.
We're experts when it comes to water heater repair. Where others may try to talk you into a new water heater, we're going to make absolutely sure you've gotten everything possible out of your existing water heater. We troubleshoot. We diagnose. We repair. And we're great at it!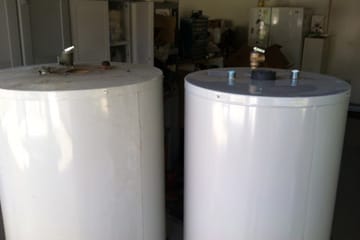 Does the top of your water heater look like the one on the left? If it does it has ruptured due to thermal expansion. Hot and cold nipples leaning inward instead of straight, flue pipe in middle sucked down into the water heater jacket. It's time for a new water heater (right), but this could have been prevented with a thermal expansion tank.
This is a thermal expansion tank installed near the incoming water supply. These can also be installed at the water heater or anywhere inbetween the water heater and the pressure regulator.
Left: incorrect installation, gas flow goes directly into gas control valve.

Right: correct installation, gas flow forced to change direction to go into gas control valve.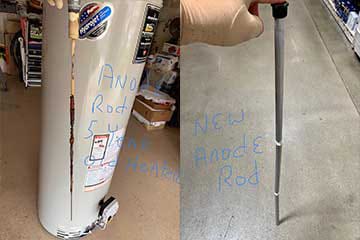 We are full-service water heater experts:
Water heater repair
Water heater replacement
Water heater troubleshooting
Water heater maintenance
Water heater installation
Water heater explosions
Water heater leaking? We're water heater repair experts! Call now for service!
Water heater explosion prevention
Theraml expansion tank installation
Gas water heaters
Electric water heaters
Water heater thermostats and controls
Cold and hot water supply lines
Water Heater Replacement
In addition to water heater repair, we specialize in water heater replacement. Don't wait for costly water damage caused by ruptured water heaters.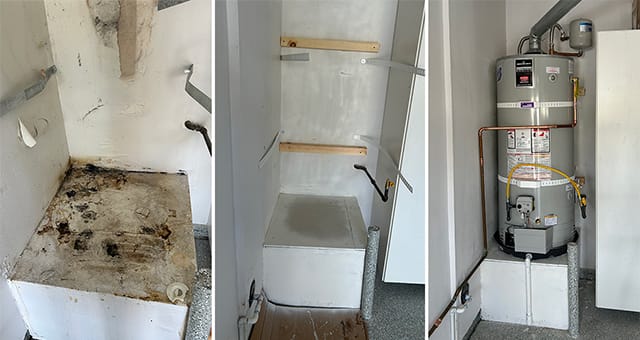 The average life of a water heater is 7 to 10 years. We can help you choose the best water heater for you and your family - a water heater that meets all you needs: size, capacity, capability, and within your budget!